A Powerful Prosperity Book
by John Wolcott Adams
100+ Dynamic Inspirations & Prosperity Prayers to Help You Claim the Millions That Are Yours by Divine Right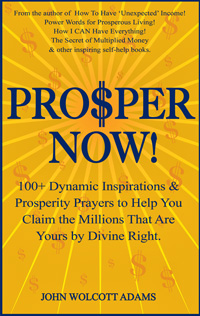 Pro$per Now! – The Book! – The Prosperity Inspirations and Prayers in the book, are the same ones you enjoy on our Daily Pro$per Now! Golden Key Ministry webpage, with some variation, plus there are more of them all together in handy book form.
You will want to keep copies of this book in convenient places for handy reference, and daily inspiration. This will help you travel the royal road to riches, enjoy the trip, and improve the quality of your life.
This prosperity power-packed book:
will help you in your quest to live more prosperous and enjoy the rich abundance God has for you
covers every aspect of the Prosperous Life giving you inspiration and ideas to help you stay on the prosperity path
Read daily and you will Pro$per Now!
Order Now! One personally signed copy of "Pro$per Now!" for $14.95.
Special website price: $13.00 – US Postage is free!
ALL other countries Shipping & Handling is included in the price!
To order Rev. John's book, simply click on the "PayPal" link or the book cover. You are welcome to place a mail-order by sending your check or money order to the address below.
$13.00 USA Only
International price: $29.00
$4.99
Digital eBook from Smashwords