A Dynamic Study Course in Living Abundantly
Purpose:
To Enlighten Your Mind and Enrich Your Whole Life
It is perfectly right that you should give your best attention to the Science of Getting Rich, for it is the noblest and most necessary of all studies. If you neglect this study, you are derelict in your duty to yourself, to God and humanity. You should make the most of yourself. – Wallace D. Wattles
This prosperity study course is especially designed to:
Stimulate your thinking
Securely connect you with the Source of all wealth
Eliminate barriers to prosperity
Put you in the flow of abundance
Create real and lasting prosperity
Enable you achieve your prosperity goals
Make it easier for you to prosper
Improve your health and peace of mind
See Special Offer below!*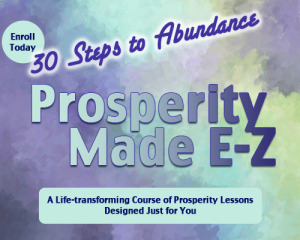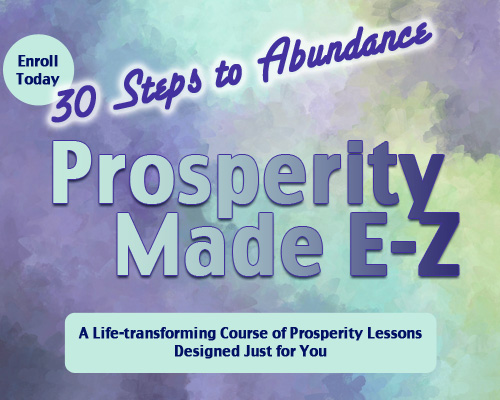 Studying Prosperity Made E-Z gives you a solid spiritual foundation for creating true prosperity consciousness, which in turn, makes it easier for you to attract money and all the other good things of life.
When you focus on the ideas presented in these Lessons, and apply what you learn, you gain understanding, and universal prospering energy works for you in a very practical and powerful way assuring positive results.
You are happier and healthier when you're in the flow of abundance because it gives you a feeling of well-being.  It relieves stress, you have more peace of mind, and a wonderful sense of richness and freedom.  Life is easier and more fun, too!  Prosperity Made E-Z is the Law of Attraction in action, magnetizing the Wealth of the Universe to you!.
Read what students of Prosperity Made E-Z say about this Course:
"The Prosperity Made E-Z course has been very helpful and I've been sharing it with my family too. Like all your Courses, this also has been immensely helpful. We are now doing very well. I have been doing one lesson each week. Thank you so much. I am indeed grateful for your ministry and your inspiration. Yours sincerely, Sivaraman R. Ph.D." – India
"This Course, Prosperity Made E-Z, has been hugely helpful. I needed $4000 and it dropped into my lap in the most unexpected way. It was money owed to me by my Employer and was a total surprise. I was able to straighten out some pressing money affairs in a few minutes. I like the fact that the lessons are short. I really like this course." Christine B. – Queensland, Australia
"The Prosperity Made E-Z Course certainly keeps me more focused on what is real. Monetarily, the money just seems to come when needed and I find it easier to consider myself blessed. The lessons are clear and easy to understand. I am happy I enrolled in this course. I recommend it to others." – Kevin B.
"The Prosperity Made E-Z Course has given me positive encouragement and insight on prosperity principles. I have benefited by the wisdom and teachings which help me stay focused on abundance. This Course is a positive and helpful foundation for understanding prosperity principles. I definitely would recommend this course for someone who wants to learn prosperity teachings and the Law of Attraction." – Phyllis F. – San Francisco CA
Ask yourself,
"Am I ready for a happier, healthier and wealthier life?"

If you're ready to take action, accept this opportunity to learn and grow into the richer life you desire and deserve.
We have provided this dynamic life-transforming course of Prosperity Lessons to make it easier for you to prosper.  Just think how much better, easier and happier your life will be when you are living a more abundant life!
Here's How to Enroll!
1. Register FREE
2. Choose to purchase lessons one at a time or all 30 at once.
Buy 1 at-a time:  Just $3.00 per lesson
Enroll in the Entire Prosperity Made E-Z 30 Lesson Course for the regular price of $30.  Plus receive 2 BONUSES free at no additional cost. That's only $1 per Lesson! A Great Value that Pays You! OR* SAVE MORE WITH THIS SPECIAL OFFER!
LIMITED TIME OFFER!
Save $10!
Enroll now in the entire Prosperity Made E-Z Course for ONLY $20!
Take advantage of this opportunity to study, learn and prosper! Get started now!
Register FREE – Enroll for only $20
We're here to help.  Our desire is for you to get the most from your study and application of Prosperity Made E-Z.Any time you feel the need for assistance, or to clarify a point, contact us by e-mail. We want you to receive the greatest possible value from your participation in Prosperity Made E-Z.
Get Started Today!
Register now and enroll in Prosperity Made E-Z 
Some of the Lessons are:
Foundation for Permanent Prosperity
Three Barriers to Prosperity
How to Stabilize Your Finances
The Prospering Power of Your Words
Why People don't Prosper
Prosperity on the Highest Level
The Way of Abundance