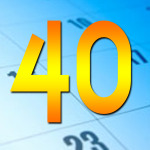 These 40 powerful articles are provided here to help you use the Law of Attraction every day in creating a more prosperous life for yourself. The purpose is to cause you to think abundantly on a daily basis for at least 40 days. When you think abundantly you are keeping your mind on God, the Source, where it belongs and setting yourself up for a more prosperous life. It's the Law of Attraction in action!
Regardless of how prosperous you may be, you will realize the value in these forty daily prosperity lessons. Persistence is your golden key to success.
Please share this page with friends, co-workers, business associates, and others. This is part of the ongoing effort of Golden Key Ministry-Unity to change the prosperity consciousness of the planet by changing the consciousness of people.
•    •    •