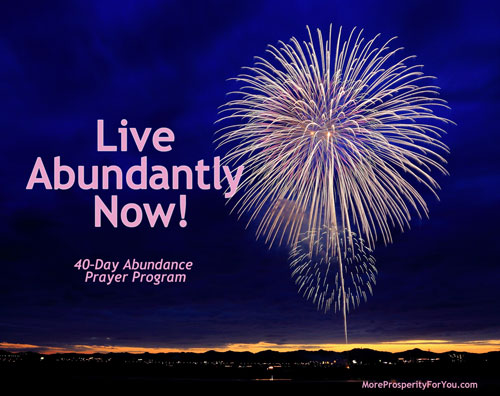 The more often you present to your mind a logical and true proposition, the stronger becomes the inner feeling of realization. 
– Charles Fillmore – Co-founder of Unity School of Christianity.
This Special Prayer is lovingly sent to you to empower you to expand your acceptance and experience of God's rich abundance for you. Join with us in this exciting and powerfully prospering activity. Please read everything here.
Follow these easy directions and you will experience a big and delightful boost in abundance.
Speak this Prayer twice daily for 40 days. (See check off numbers below.)
Relax in the faith and understanding that it is so now. BELIEVE it is true for you now. It is!
Speak this Abundance Prayer with feeling, belief, acceptance, and thankfulness.
Keep your thought and talk positive and uplifting each day.
Refrain from all lack and negative thinking and speaking. Do not engage in worry or fearful thought or talk. Focus on God, love, faith, joy, and peace.
For 40 days refrain from all Criticism, Condemnation and Complaining – about anything!
If you "mess up" on any given day, start over!
Accept that you are love and deliberately send love to everybody. Bless everyone in the Golden Key Ministry-Unity Abundance Prayer Program.
During this 40 days, give special attention to tithing. Abundance is really about giving, so give! You may give a faith offering to Golden Key Ministry-Unity.
Focus on just one-day-at-a-time for 40 days and enjoy your growing abundance.
A partner is not required, but it is often helpful to have one for this type of program. You can support and help each other stay on track. "Where two or more gather together and agree upon a thing, it is done unto them."
Let us know that you are joining with us by sending an e-mail to us with:THANKS! COUNT ME IN! in the subject line. Please include your FULL NAME.
After you have successfully completed the 40 days, you may repeat if you wish. Be sure and write a report to me about your experience. I love to hear good news! We are praying with you. Start increasing your abundance, today!
Lovingly, Rev. John
Golden Key Ministry-Unity
40-Day Abundance Prayer

I dwell in the midst of infinite Abundance.
The Abundance of God is my infinite Source.
The River of Life never stops flowing.
It flows through me into lavish expression.
Abundance comes to me through unexpected avenues.
God works in myriad ways to bless me.
I now open my mind to receive my good.
My mind is open and I am now receiving my abundant good.
Nothing is too good to be true. No amount is withheld or limited.
Nothing is too wonderful to happen NOW.
With God as my Source, nothing amazes me.
I give freely and fearlessly into Life and Life gives back to me with lavish increase.
Blessings come in expected and unexpected ways. All channels are open and the flow of good has already begun.
I freely give my tenth to God and God gives abundantly to me.
Thank You, God for the Abundance that is mine today!
And so it is!
It is beneficial to be very still for a few minutes after you affirm the Abundance Prayer. At night peacefully go to sleep assured that God is providing for you richly and abundantly.
Start date _______________   End date ________________
Morning   (For your convenience, mark off a number after you've spoken the Prayer)
1 2 3 4 5 6 7 8 9 10 11 12 13 14 15 16 17 18 19 20 21 22
23 24 25 26 27 28 29 30 31 32 33 34 35 36 37 38 39 40
Night
1 2 3 4 5 6 7 8 9 10 11 12 13 14 15 16 17 18 19 20 21 22
23 24 25 26 27 28 29 30 31 32 33 34 35 36 37 38 39 40
Read more Live Abundantly Now articles.