by Stella Terrill Mann – Guest Author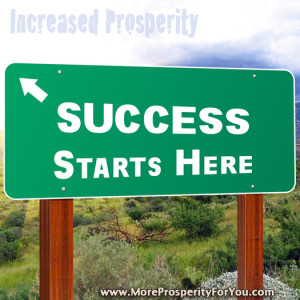 A Mr. Anderson came to me to pray with him concerning his business affairs.  He long had dreamed of increased prosperity but his dream had not come true.  He had become fearful and bitter but thought of himself as a "strict Christian."
"I have worked hard all my life, but success has not come to me," he complained.  He did not realize that he was accusing God and His laws.
"It never will come to you," I told him.  "If you want success you must go after it.  That is, you must learn and use the rules for success."
There is no law for failure.  But many people use the law of success by which to fail.  They put it into reverse.  They ask for what they do not want.  They talk about what they do not want.  They deny the good that is at hand for accepting.  They think about and believe in failure or limitation, and so they sow the seed of failure instead of the seed of success.
"But I am a praying man," Mr. Anderson protested.  "It seems to me I spend a lot of time telling God what I want."
Upon hearing his full story, it was apparent that he spent most of his time talking himself down, destroying his own good by his own words.  He owned a small business and rented quarters in a down-town building but was looking for more space.  After going into his needs, we went into prayer about it and I then spoke the word for him.  This was an entirely new part of prayer for Mr. Anderson, and he was not at all sure he liked the idea of "saying it is so."  He was rather inclined to say, "Well, if God wants me to have a new place, He will find it for me."  However, he was willing for me to use my own method in helping him.
Not long after our work together, a man from Mr. Anderson's church called on him at his home.  The church was raising funds at the time and pledges were being asked.  The caller said that he had been observing Mr. Anderson at his shop and admired the way he handled customers.  'You must have a lot of friends,' he said.
"Oh no," said Mr. Anderson, and shrugged a denial.
I happened to be passing through the building yesterday and noticed people seemed to like doing business with you.  I suppose you so very tidy little business there, Mr. Anderson.'
"Oh, no," Mr. Anderson hurriedly replied.  "I'm not much of a business man.  I just about get by."
"I'm surprised to hear that," said his caller, looking disappointed.  There was a little more talk, and the man went away without asking for a donation to the church.
A few weeks later Mr. Anderson learned that his caller was putting up a fine large office building and had been looking for a tenant for the very kind of space Mr. Anderson was praying for.  But he convinced the owner of the building that he was not the man for the place.  His caller found another man to lease the space to.
"There is a tide in the affairs of men, which, taken at the flood, leads on to fortune," said the wise Shakespeare.  Through prayer, Mr. Anderson brought the flood of opportunity to him, but through his own Spoken Word he sent it away when it came.  Through fear of being asked for a larger donation to the church than he felt he wanted to make, he talked of himself as a failure and was accepted as such.
Having learned a lesson and his curiosity having been aroused, Mr. Anderson was ready to start to learn 'that new way of prayer.'
The main point of what he learned is that our words, including the idle ones, musty back up point two, our decision.  There is no use to ask for anything in prayer if we are not going to give it our full support.  We want to avoid Mr. Anderson's mistake.  He later learned to Speak the word, and here is the formula he used:
First prepare your mind to receive.  Mr. Anderson was instructed to prepare his mind before speaking the word.  He was to say:  I, William Anderson, am the Word of God.  God expects me to use the Creative Power He has given me.  I have asked in prayer for better and larger space for my business.  There is a perfect space and place for me, or I would not have asked for it.  I am helping make God's dream of man come true when I live up to the highest use of my creative power.
I do not need to know how God is doing this for me.  I only need to believe it is being done.  And I do believe.  I have asked for the good I desire knowing that God wants it for me.  I gratefully accept and know that I have already received.  And, so it is.
Mr. Anderson invested time in the study of the principles shared with him, as he filled his heart with belief.
One day, not long after, trembling with excitement, he came into my office.  His dream had come true.  He wanted me to go with him and see the fine new quarters that he had heard of, in a most unusual way, and leased on first sight.  "I didn't talk myself down one bit," he told me proudly.  "I boldly told them I was a good business man who had outgrown my old quarters, and that I needed more space in a better location."
Mr. Anderson has earned more money ever since.  Like all who come into the Truth movement, who begin to make demonstrations, who love this new way of life, he is busy telling others about it.  The businessmen in the building frequently stop by Mr. Anderson's shop to ask, "Well, what's new?" and he has found a way to send one man to another, as a kind of clearing house of ideas, and has picked up many times the amount of his income from his shop in payment of help to others.  His constant talk to himself about his business ability and growth simply had to  become manifest.
If you will study and learn to Speak the Word for yourself concerning your dreams, you will enjoy the success that Mr. Anderson experienced.  Remember:  Your Holy Servant must obey your every order of Let There Be!  This is said in many ways, especially by what you believe.  You cannot talk failure and win success.  You can't say, "Oh, I was only joking.  I didn't mean that."
Your object in Speaking the Word is to specialize this power, use it as a good and profitable servant with deliberate purpose and intent, time after time.
Always, always, you must speak in line with your desire, and your decision.
(The above is excerpt from the book, MAKE YOUR DREAMS COME TRUE.)
---
You have the power to make your life what you desire it to be.  Your spoken word is not only powerful to make changes in your life it is the power through which definite changes come about.  Regardless of outside influences, you shape your life through your thoughts and words. –
Power Words for Prosperous Living by Rev. John  Find this book and special offer in: Rev. John Adams' Bookstore.
This article is provided as a service of Golden Key Ministry-Unity.  It is part of our ongoing effort to give you the best in ideas and inspiration to help you prosper in all areas of life.
Golden Key Ministry-Unity is an independent Unity minister.  It depends entirely on voluntary tithes and other financial contributions to sustain it. Thank you for your Contributions by:
Check or money order:
Golden Key Ministry-Unity, P O Box 30989, Phoenix, AZ  85046
or PayPal: