For You if You LOVE to Prosper!
We must receive your enrollment by
12 Midnight – Thursday
Dec. 28, 2017
Don't wait until then. Do it now!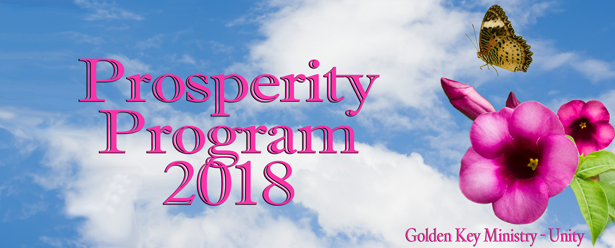 GKM-U 2018 New Year Prosperity Program
For You if You LOVE to Prosper!
Enroll in Our Exciting 3-month Prosperity Program
It's designed especially for you to stimulate your thinking and cause you to experience increased prosperity in the New Year, starting now! This is part of our intention to help you to enjoy the truly abundant life you are entitled to.
Dr. Joseph Murphy wrote: "Feel that you are successful and prosperous for the feeling of wealth produces wealth."
God's desire for you is to live abundantly, which means to be radiantly healthy, positively peaceful, and be as prosperous as you possibly can be! This program will help you in wonderful ways. Enrolling in our New Year Prosperity Program is like giving yourself a raise in pay!
When you use each Prosperity Affirmation in this program every day, as instructed, you will begin to feel more prosperous right away. During the course of this program, we will share with you, ideas, affirmations, and inspiration aimed at substantially upgrading your prosperity.
Features of this Prosperity Program:
Promotes Prosperity Breakthroughs
The Prospering Power of Love
Don't just survive, Thrive!
True Prosperity
'Unexpected' Income!
Powerful Prosperity Affirmations
Prosperity Miracles Can Be Yours!
Dare to Prosper!
Decide that 2018 is your year to abundantly prosper in joy, love, peace, health and wealth. Join with the many others who are enrolling in this special Prosperity-Increasing Opportunity. God has an abundance of happy, exciting prosperity blessings ready for you! Receive them now! Are you ready to prosper? Enroll today!
When we receive your enrollment, we will send to you, an acknowledgement and add your name to the list to receive GKMU 2018 New Year Prosperity Program.
The first part will be sent to you late on December 31st. When you enroll, the Prospering Power is On!
There is no charge to enroll in the GKM-U 2018 New Year Prosperity Program. However, we welcome and are immensely grateful for tithes and donations in support of this, and all of the spiritual work of Golden Key Ministry-Unity. Thank you!
Contributions:
By PayPal Click Here
By check or money order: P O Box 30989, Phoenix, AZ 85046